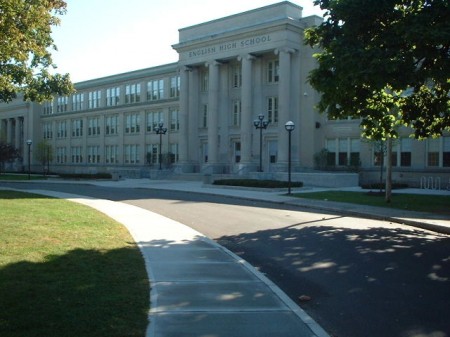 About this Site
This website is designed and being maintained by the reunion committee for Lynn English High School's Class of 1965.  It is free to use.  Your webmaster is Lester Libby.  The site was originally put together by Bob Maleszyk.  It is a non-commercial site for providing communications concerning our class.  It is the official website for Lynn English High School's Class of 1965.
While we are members of Lynn English's past, this website is not officially connected to Lynn English High School or to Lynn English High Schools Lynn English High School "Alumni Association".  The "Alumni Association" is for all of Lynn English's classes.
On this site you will find announcements concerning Class of 1965 reunions, a memorial page for our departed classmates, a lost classmate page listing classmates for whom we don't have current contact information.   We might also post memorable photos from the past or of reunions and of other things of interest.
Keeping Addresses and Email Current
Please remember, snail mail costs money and there are over 600 classmates in our class.  We need up-to-date contact information (address, phone and email) for everyone in the class.  Please update your contact information at least once a year or whenever it changes.  Use the Address Update Form on this website to update your contact information.  NOTE:  All address information is considered confidential and will NOT be posted on the website.
Contacting the Reunion Committee
You can send an email on any topic to our reunion committee by using CONTACT.  This message will NOT be visible on the website.  Do not send attachments using CONTACT.  Instead, use Contact to notify the administrator that you have an attachment and instructions for doing so will be provided.
Comments
You can make a comment on a post or photo that will be visible on the website by clicking on the word "Comment" directly below the post (or "Comments" if there is already one there).  The comment will need to be approved by the administrator before it becomes visible to everyone on the website.  When you make a comment about a post or photo, make sure you are clicking on the word "Comment" DIRECTLY below the post of photo you want to comment on.
Notification of new Posts on the Website
To get an email whenever there is a new post on the website, use SUBSCRIBE TO BLOG.  When you do so you will provide your email address.  Make sure to follow the directions when you click on SUBSCRIBE TO BLOG.  After you subscribe, you will get an email from the website when ever a new post is made.  The email should be delivered around 9PM eastern time.  Note:  No email will be sent if changes are made to existing posts or for addition / change of pages.
Posts, Pages and Categories
A "POST" is an announcement.  It shows up on our home page.
A "PAGE" is a separate location within the website about a specific topic.  For example, photos from our 50th reunion are located on a separate page (not the home page).  You can always go back to the Home Page from any location within the website.  The PAGES are listed under "HOME" (for home page) in the Main Menu
BLOG CATEGORIES are general topics of posts.  This will allow you to quickly see all the blog posts about a specific category.  You can do this by going to CATEGORY and clicking on the one you are interested in.  For example, if you want to see all the posts about Veterans' Day, go to "Veterans Postings" and you will see all the Veterans Day postings that were made since the website was started.  You will not see any of the other posts.  "Blog Categories" are under the "subscribe to blog" line well below the Main Menu.