Howie Burnett here LEHS 65.
I've been a full time Teaching Pro/Coach  for Tennis in New England and Florida for 46 years and in July of 2016 I was Honored to be inducted into the United States Professional Tennis Association — New England Hall of Fame.
This Photo was taken at that ceremony at the Tennis Hall of Fame in Newport RI — Im surrounded by the New England Board of Directors and standing next to my wife of 48 Years Wendy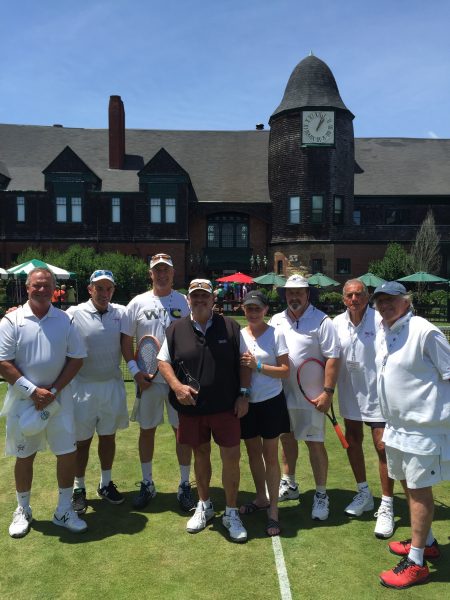 Currently, Howie is teaching at the– Marco Island Racquet Center
Howie, before his relocation to Florida, was the founder and president of Net Advantage LLC, a tennis management service that operated five clubs and six recreation department tennis programs in the New Hampshire seacoast region. He founded the company in 1974 and operated it until 1998.
Howie has been a member of the USPTA since 1972. He was the USPTA New England Division president and a national Executive Committee member from 1989 to 1992.He also served as a certification tester from 1980 until 1989.
In addition, he was a part of the USTA Clinicians Service and conducted The New Hampshire High School Coaches Clinic every spring for 10 years as well as being a USTA Area Training Center Head Coach from 1988 to until his relocation to florida in1998.
To leave a comment about this post, please use the leave a comment heading just below this!