Our 45th reunion in September, 2010 was a great time and we raised over $4400 for our Scholarship Fund.  THANKS to everyone who contributed and who attended the reunion.
Thanks to Sue Rummel's hard work and persistence, LEHS golf towel sales raised over $625.  Sue indicates that there are a limited number of grey golf towels for sale at $20 each.  If you want one or more, please contact us and Sue will get back to you with details.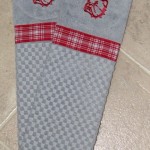 The 50/50 raffle at the reunion raised another $375 for the Scholarship fund.
Most importantly, donations from individuals and the small difference between the actual cost of the reunion the fees charged for the reunion raised approximately $3400 more.
The Scholarship Program is an on-going effort and donations are encouraged and welcome at any time.  If you are interested in making a donation to the scholarship fund, please contact us and we will send you a scholarship donation form with mailing instructions.  If you have any questions, please don't hesitate to contact us.
Our Honor Role of Donations from Individuals is listed below.*
Bulldog "Plus" Status (over $100)
This special category was created for our late classmate, John Calef, who donated the largest donation to date ($500) before he passed away in 2008
Bulldog Status ($51 – $100)
Jaime (Andrian) Blackstone
Bert Conlon
Janet (Durgin) Atkinson
Jeri (Graham) Mullen
Arlyne Grant
Robert Hartshorn
Janice Pitkewicz
Christine (Sampson) Weston
Tim Sharpe
Eleanor (Shellgren) Starkenberg
John Warwick
Red Status ($26 – $50)
Thomas Cahill
Richard Callahan
Don and Carol (Napierski) Ellis
Larry Kelleher
Bob Maleszyk
Jack Rummel
Karin (Stevens) Beaupre
Charlie Tucker
Grey Status (up to $25)
Dale Bryant
Frances (Buckley) Corcoran
Josphine Capano
Dave Emerton
Tony Ferrini
Mark Geller
Katherine Hashian
Chuck Hamilton
Sherry (Johnson) Traverse
Linda (Ladd) Murray
Karen (Hyde) Mancinelli
Ed Jordan
Margaret Marasco
Kathleen (Martin) Ridlon
John McCarthy
Eileen (Murphy) Messier
Tom Mitchell
Haig Nalbandian
Jacqueline O'Donnell
Dick Olsen
Helen (Pachucki) Carter
Ralph Palombo
Mary (Sullivan) Wright
*we apologize if we have omitted anyone (please let us know)